The Copycare Promise.
The cost per copy includes our outstanding service promise: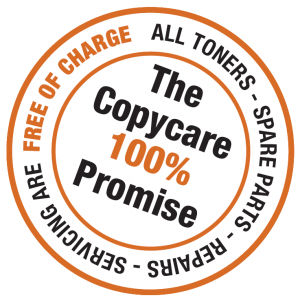 We promise to supply you with genuine manufacturers toners
FREE OF CHARGE
We promise to regularly maintain your copiers and printers
FREE OF CHARGE
We promise to supply and fit genuine manufacturers parts
FREE OF CHARGE
We promise to supply a replacement copier or printer if we are unable to fix your existing machines
FREE OF CHARGE
We promise to upgrade your machines to suit your changing work loads
FREE OF CHARGE
This is what Louise Dear, School Business Manager at Singlegate Primary School has to say about the Copycare service promise.
"We have been with Copycare for about 10 years now. Their service is A* and I would have no problem with
recommending their services to you.
We have 4 photocopiers in the school, and around 14 printers which work in the same way as the photocopying. We only pay for the copies. All toners are provided by Copycare at no cost and they always give you enough to have spares so you never run out unexpectedly.
Their service when called out is excellent and they usually come the same day as call out.
Their machines are good. We have a high turnover of photocopying hence having four photocopiers. They will update your photocopiers at no cost.
An excellent service provided"